I have seen many topics on here on what works and what doesn't work with replacing the puddle lights with LED's. I figured it would be great to post a new DIY guide on how I did it. Today was a very cold day in NY but I was determined to get this done.
First things first, you will need to remove your puddle light enclosure. Daytime Brightlites has a good video on how to do this. A good tip is to use a small flathead screw driver on the other side of the clip. Wedge it in there while pushing the clip with another screwdriver, which worked best for me.
https://www.youtube....h?v=2rSkqbMIgYU
Here are the tools I used below: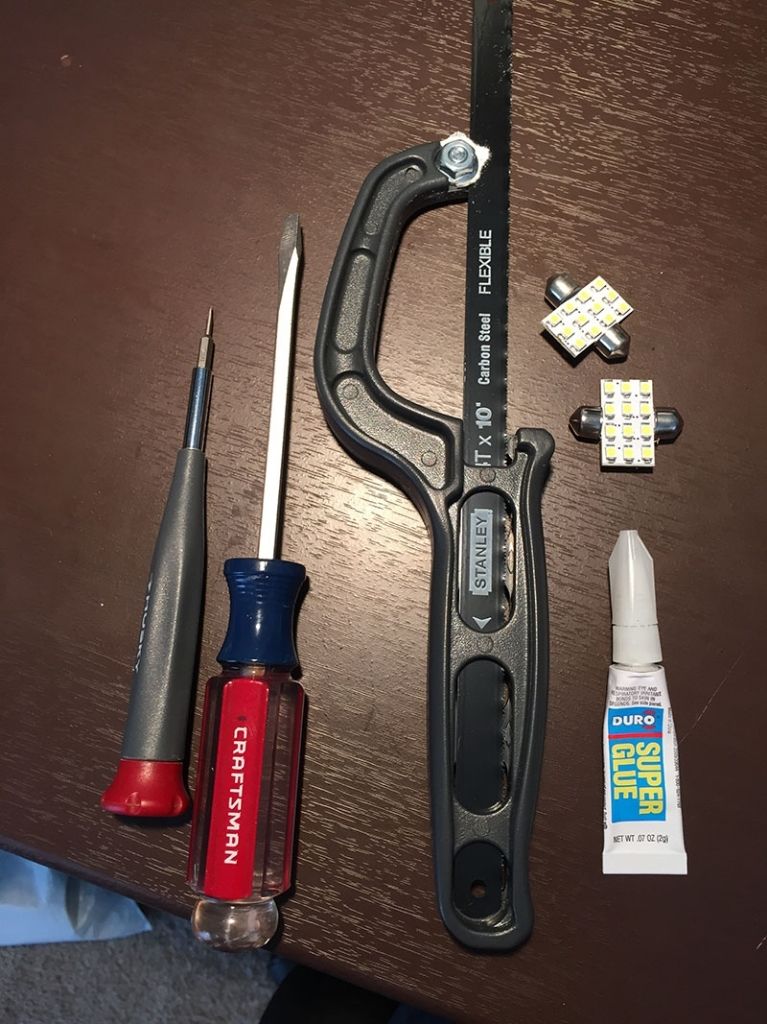 Someone recommenced these LED's which do not flicker on my 2014 HyTi. You will not need to put in a resister and for a 4 pack is less than 6 bucks.
http://www.amazon.co...0?ie=UTF8&psc=1
I also bought this mini hack saw.
http://www.amazon.co...0?ie=UTF8&psc=1
Use the hack saw to car around the enclosure where the clear cover meets the black plastic. Just cut all around the enclosure till it looks like this:
Now take a screwdriver and slowly start prying the clear cover away. You will need to continue cutting if the cover doesn't give in sections. Eventually the cover will come off cleany.
Take out the stock bulb. Due to the size of these LED's, you will need to also take out the metal reflector. It won't be needed anyway since LED's only face one way. These bulbs are probably the biggest that can fit and will be tight.
Notice:All LED bulbs have to be plugged in a certain way,it has Positive and negative, so if they don't work at first, quickly take them out, turn them around 180 degree, and put them back in again.
I went back out to confirm the polarity was correct and the LED's were working. Do not glue them shut till after you test them.
Next is time to seal them up. I used some electrical tape to keep the bulbs in better place and then some crazy glue around the edges. I waited about 30 minutes for it to dry.
Now the last step is to pop them back in and time to enjoy the LED glow.
Here is a video I took to show the fade out still works without flicker.
http://vid41.photobu...31 17.39.15.mp4
Edited by thrasher086, 01 July 2015 - 07:40 AM.