Welcome to Ford Fusion Hybrid Forum
Start new topics and reply to others
Subscribe to topics and forums to get email updates
Get your own profile page and make new friends
Send personal messages to other members.
2015 Fusion SE Seat Covers
Started by
Mike Altieri
,
May 13 2016 09:52 AM
#1
OFFLINE
Posted 13 May 2016 - 09:52 AM
Anyone selling or have a good place to buy decent seat covers. I don't want to get just walmart specials.
---
Lose this advertisement by becoming a member. Click here to create a free account.
#2
ONLINE
Posted 14 May 2016 - 12:27 AM
What seats do you have in your SE? I have leather seats in my SE and can't imagine putting seat covers on.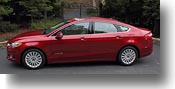 ---
---
0 user(s) are reading this topic
0 members, 0 guests, 0 anonymous users
Privacy Policy
Terms of Service ·